Artwork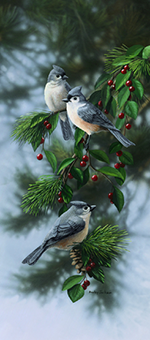 The Limited Edition Prints of Bradley Jackson are an offset reproduction or digital piezo printing on archival, acid-free papers using fade resistant inks. Each print is inspected, signed, and numbered by the artist, Bradley Jackson. Edition sizes are verified by the Certificate of Authenticity accompanying the print. These prints are of investment quality, and sold in both the primary and secondary limited edition print markets.
Bradley Jackson's LIMITED EDITIONS are conservation framed. The custom framing is designed to present these prints in color and style which subtly enhance the focus of each image. The frame weight and finish are chosen to distinguish the boundary of the art. The mat colors are arranged to accent, and enhance the focus of the image.
The custom framing of these prints are a conservation package to preserve the investment purchase. A conservation package should be made up of a special mat package that includes the backboard and window mat, a dust cover and proper hinging of artwork and glass that protects the image. The primary function of matting is to separate the artwork from the glass and to give the art some "breathing space." A properly constructed package includes a backboard and window mats made of 100 percent pH neutral boards or "acid free" rag mats. Conservation framing dictates that the prints should be hinged in a manner that is reversible and will not harm the artwork. These prints are mounted using Japanese hinges and museum corners allowing the artwork to hang freely and prevent damage as the artwork expands and contracts with changes in temperature and humidity. Acid-free foam boards are used behind the prints to achieve a smooth surface. The glass protects it from insects and airborne pollutants such as dust. The back of the frame is covered with a paper dust cover and the proper hanging hardware that is strong enough to hold the frame securely.
His work can be purchased at Art Shows throughout the East Coast or by appointment in his studio in Weathersfield, VT.
For licensing inquiries and to use any artwork by Bradley Jackson for your product or project, please contact Ansada Licensing Group, LLC.